Trusted content for tourism marketing purposes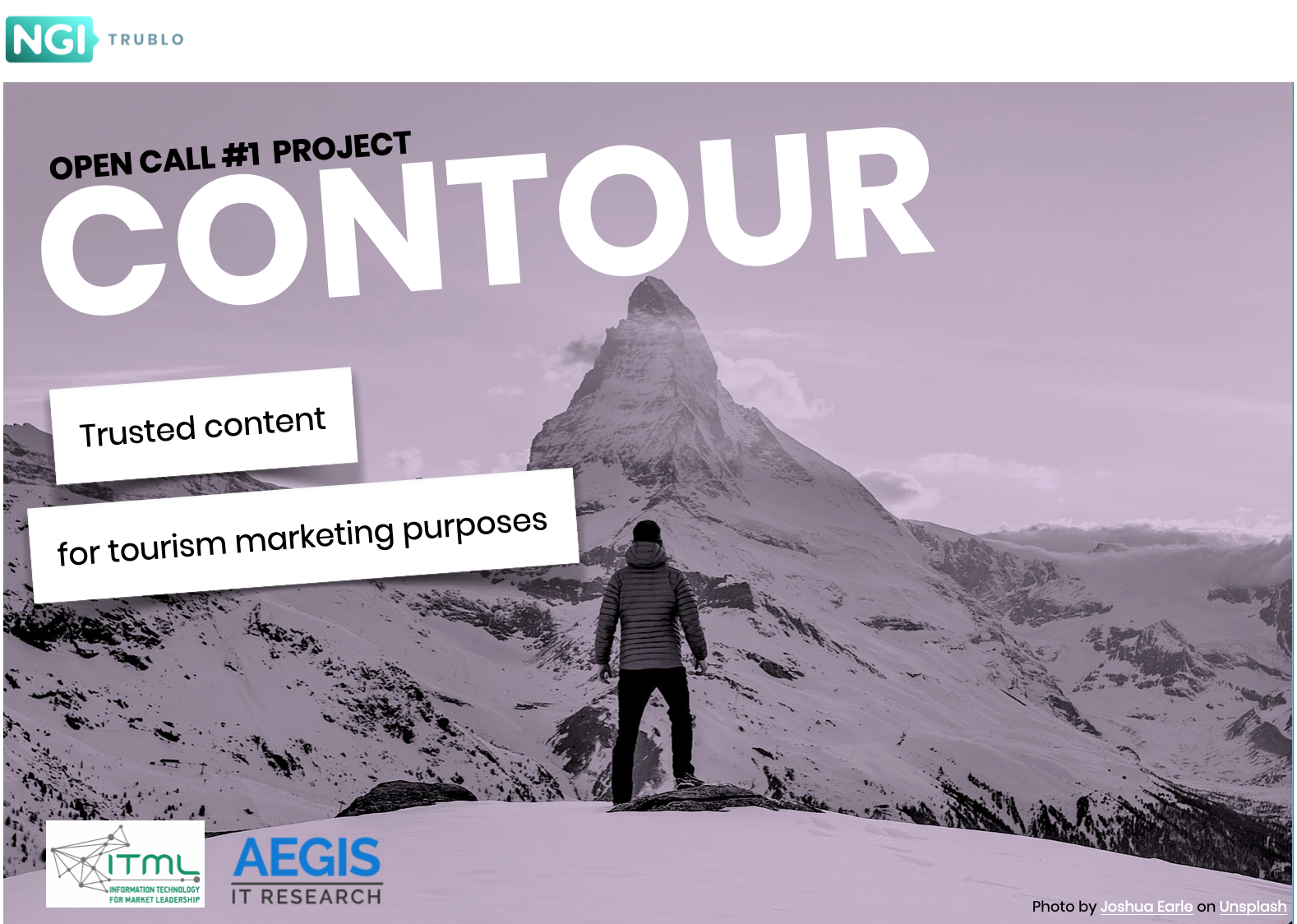 ---
Project
User recommendations posted in travel apps and social media are now widely used as evidence to better approach audiences, through digital marketing tactics for destination branding. 
This new approach aims to accurately communicate to travellers, the reputation of the destination itself and its attractions, as well as the quality of the respective providers such as accommodation & restaurants.
CONTOUR will develop a blockchain-based framework for online, user-generated travel reviews. This will ensure: (i) collecting and integrating multimodal content, (ii) guaranteed authenticity, improving privacy and intellectual property rights, (iii) delivery of the user content to interested third parties for reuse and (iv) maintaining the traceability to the original publication. 

---
Team
Name of person
Role in the project
Link to LinkedIn profile or equivalent
Entity
Dr George Bravos

 

Project Coordinator

https://www.linkedin.com/in/george-bravos-2a5b9374/

ITML

Dr. George Bravos

is the co-founder of ITML. He received the Electrical Engineering and Computer Science diploma from NTUA at 2002 and the PhD from University of Piraeus at 2008. He has a demonstrated experience in project management, software engineering, telecommunications, computer science and Java. 

Dr Christos Dimou 

Technical Manager

https://www.linkedin.com/in/chris-dimou/

ITML

Dr. Christos Dimou

is a senior Software Engineer, with over 15 years of a rich background in multiple software, web, and database technologies. He has extensive experience in distributed applications and use cases in the blockchain domain, including a secure, distributed identity validation system for the financial sector and a blockchain-based healthcare record system. 

Ms Asimina Marmpena

Machine learning Scientist

https://www.linkedin.com/in/mina-marmpena/?originalSubdomain=gr

ITML

Ms. Asimina Marmpena

holds a master's degree in neuroinformatics from the University of Patras and a PhD in robotics from the University of Plymouth, UK. She has conducted

EEG signal analysis

for the study of human creativity at the Singapore Institute for Neurotechnology. 

Dr Ilias Spais

Project Leader for AEGIS

https://www.linkedin.com/in/ilias-spais-6a975113/

AEGIS

Dr. Ilias Spais

is a PhD holder in Electrical and Computer Engineering with more than 18 years in research and innovation in many areas, including big data technologies for analysis and visualizations for a variety of business domains. 

Ms Jihane Najar

Project Manager

https://www.linkedin.com/in/jihane-najar-4b17439a/

AEGIS

Ms. Jihane Najar

holds a Diploma in Computer Science with experience in the area of systems and networks security. She is currently a project manager at AEGIS for several European funded projects, also focusing on dissemination and communication activities.

Mr Manos Karampinakis

Software Developer 

https://www.linkedin.com/in/manolis-karampinakis/

 

AEGIS

Mr. Manos Karampinakis

is a Senior Software Engineer. He holds a bachelor and master's degree in Computer Science. He currently works for AEGIS as a full stack web developer with experience in data preparation, data management and visualization using modern technologies, while also gaining experience in native Android application development.
---
Blockchain experience
ITML, founded in 2013, provides a novel, tailor-made solutions based on technologies, such as big data analytics, advanced data mining and machine learning covering a wide range of applications. This is realized via (a) bilateral projects with industry, (b) Public-Private Partnerships (PPP), (c) EU, beyond-EU, and national funded projects. The most valuable products of ITML  in the fields of machine learning, data analytics and security are:
i) Data fusion BUS (DFB);

ii) 3ACEs and

iii) Security Infusion.
Blockchain technologies have been used to support the functionalities of these solutions in research projects, aiming at increasing trust and data privacy. 
AEGIS IT RESEARCH GmbH, founded in 2015, is a research and development SME company, developing and managing IT solutions. The main areas of expertise include Digital Forensic Investigations, adaptive Big Data visualization systems and the complete lifecycle of IT systems.