A blockchain-enabled badge incentivizing consumption of trustworthy content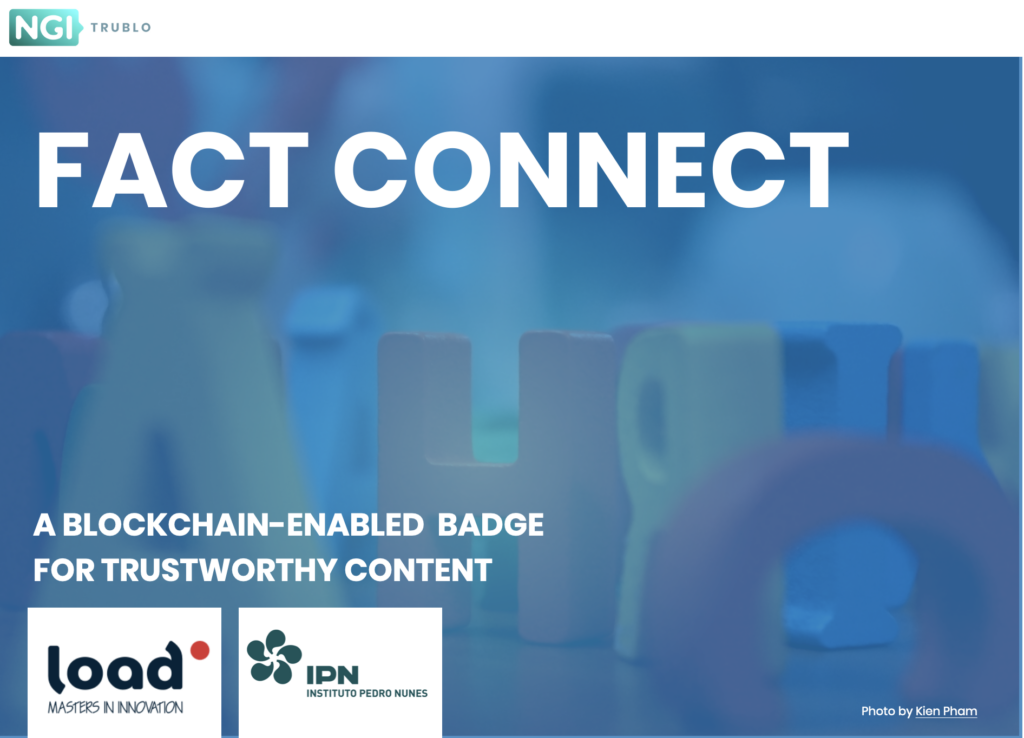 Project
FactConnect is a pluggable reviewing and reputation service available on any content platform. The goal is to fight against disinformation and fake content in any online article (News websites, reviews, blogs, influencers, etc.) or any post on social media (Facebook, Twitter, Youtube, WhatsApp, etc.). The tool will be available as a  web extension, installed in any browser to get there. The badge promotes a new level of trust for readers by decentralizing the content reviewing process, allowing users to keep the same reading habits in the same content websites.
Team
| | |
| --- | --- |
| Name of the person – Role (Entity) | Profile |
| Pedro Colarejo – Project Manager (LOAD) | Senior Project Manager, always worked on software engineering, involved in multiple and multidisciplinary software projects involving international teams. https://www.linkedin.com/in/pedrocolarejo/ |
| Davide Ricardo – Team Leader (LOAD) | Davide is the Technical Director and Development Team Leader. He's MSc in Information Systems and Technology and works as CTO at LOAD. https://www.linkedin.com/in/davidericardo/ |
| Edmundo Miranda – UX/UI Leader (LOAD) | Graduated in Graphic Design, Escuela Arte Granada in 2012, he is the Senior UI / UX Designer at LOAD https://www.linkedin.com/in/edmundomirandadesign/. |
| Miguel Fonseca – Blockchain developer (LOAD) | Miguel has a degree in Information Technologies from the University of Aveiro. He has been a Web and blockchain developer at LOAD since 2017. https://www.linkedin.com/in/miguel-trindade-fonseca/ |
| Sérgio Figueiredo -Project manager (IPN) | Sérgio has a P.hD in Telecommunications, with 12+ years of R&D experience, from strategy to specification, implementation, integration, dissemination & team coordination. https://www.linkedin.com/in/sergiomfigueiredo/ |
| Hugo Amaro – Team leader (IPN) | Hugo Amaro has a master's degree in informatics engineering from Coimbra. He has been an analyst/programmer at IPN since 2016, where he works as a senior researcher. https://www.linkedin.com/in/hugo-amaro-552950105/ |
| Bruno Santos – Software developer (IPN) | Bruno is a Senior Software Engineer and Researcher with 10+ years in R&I and significant experience in national & international scientific projects. Expert in control, data acquisition and systems Integration.https://pt.linkedin.com/in/bruno-santos-2712a0171 |
| Marta Matos – Social Media Manager (IPN) | Marta has degrees in Journalism and Marketing (MSc), both from the University of Coimbra, and a post-graduation in Multiplatform Journalism from Universidade NOVA de Lisboa, having significant experience in (physical and digital) content creation and management. https://www.linkedin.com/in/martasalgadomatos/ |
| Jorge Castilho – Senior Media Consultant | Experienced journalist (since 1970), editor and Director with a demonstrated history of working in the media production industry. Skilled in Storytelling, Video, News Writing, Editing, and Multimedia. Experienced teacher of journalism. Extensive experience in RH and PR. |
Blockchain Experience
LOAD and IPN's team have more than three years of experience in blockchain solutions and more than 15 years of experience in software development, specifically in UX/UI, Web and Mobile solutions, including:
conversational bots to a supply chain oriented solution, integrating a blockchain EOS.IO with NLP and Machine Learning;
recruitment web platform (NeoTalent DTE, co-funded), powered by A.I.-based recommendation for both recruiters and recruits, and blockchain to register and track recruits Curriculum Vitae information;
a blockchain-based Ticketing B2B solution (Ingress Chain, co-funded) for cultural and sports events, where tickets are tracked, and all ticket transactions are validated via blockchain from the sale.
This team includes an external senior media consultant, Jorge Castilho, an experienced journalist, editor and Director with a demonstrated history of working in the media production industry and an experienced teacher of journalism.