Certified proof of humanity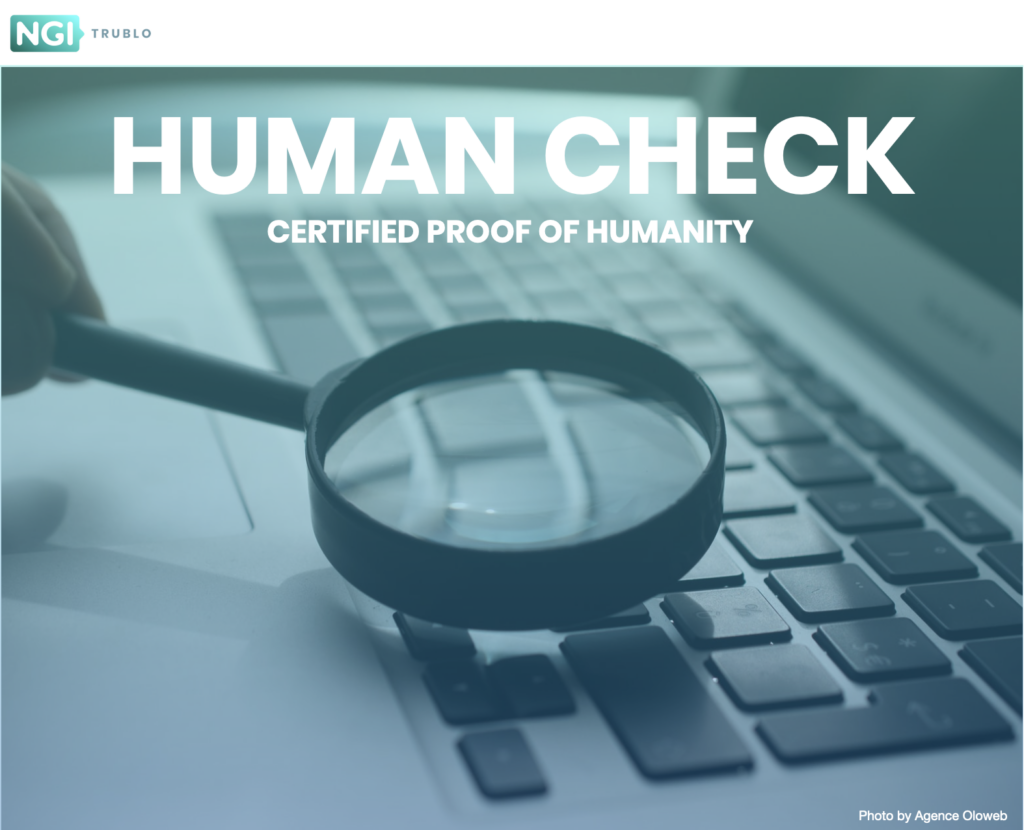 Project Description
We live in a digital society where it is becoming difficult to know if someone you are talking or interacting with through an Internet platform is a human or a bot. Bot accounts, bot interactions and machine-generated content (GPT-3) are growing at high-speed. Because of that, the need to know if you are interacting with a human is more important as time goes on.
Our approach to this problem is like single sign-on with Google system but Web3 based. Common log-in solutions like Google, Facebook, etc. validate the access by checking if the user has an account on their service but they don't certify if the user is a human or a bot. Therefore, bots can log in as their identities are not verified. This identity certification is the key of our solution. HumanCheck will prove that a given user account and a given user interaction in the web is made by a real human and not a bot
We will build on Proof of Humanity concept, including certification features and advancing in security and privacy, to add trust in the web and future Web3 implementations such as the Metaverse thanks to a verified Web3 identity approved by the community.
Goals
Ensure that participants in certain systems are humans, avoiding influence of organized groups managing robot farms.
Become one of the highest income products for Exponentia, with expected revenues of several Million Euros in the first 5 years of commercialization.
Team
Exponentia is a technology-based company founded in Valencia on August 29, 2018, specialized in the development and implementation of software solutions to achieve the digital transformation of its clients.
The team responsible of HumanCheck is:
Blockchain experience
Exponentia's expertise in the Blockchain and Crypto world includes the development and design of all services ranging from simple integration architecture with existing networks to advanced protocol-level architecture to meet its customer's specifications and increase their business productivity.
The following are some examples of projects developed by Exponentia using Blockchain technology:
Greennovation: Platform for monitoring and managing photovoltaic installations in real-time, with energy certification of the same, generating tokens from CO2 savings. It is also a regulated secondary market for green energy at the European level that allows the token to be traded.
The Motor Chain: Platform and mobile application that allows, through blockchain, to manage and share the history of classic cars in order to transfer them while preserving their market value.
Tokens Pombo: First issue of a legal token in Spain recognised by the CNMV. It grants traceability to donations from foundations to NGOs. It was developed under our Blockchain Work Labs brand, under the direction of our CTO and Blockchain professor at IE Law School: Sergio Velasco.
Blockchain Work Labs (part of the Exponentia group) is a member of Alastria, the largest Blockchain consortium in Europe, in which companies such as Banco Santander, BBVA, Telefónica, Repsol, among others, participate. On the other hand, Exponentia organized together with IBM, Gómez Acebo y Pombo and the Polytechnic University of Valencia the first Blockchain hackathon in Valencia. Talks were held on companies and the legal sector on the one hand and the hackathon itself was held, with programming sessions and practical training for technical profiles.