Trustworthy reviews in the retail market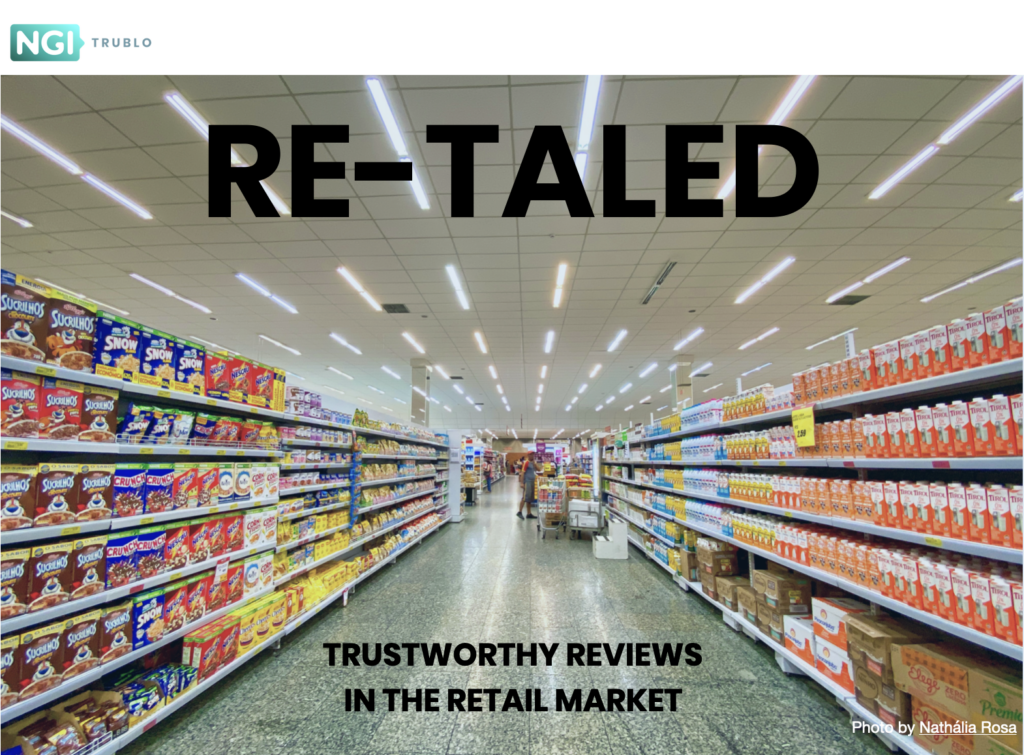 Project
Why is it relevant?
Re-Taled aims at developing a blockchain-based validation framework that provides the online grocery market with unbiased and trustworthy user-generated content and introduces a reward mechanism to recompense content creators and promote fairness.The proposed solution will be powered by an open-source cryptographic token named TALE, which will be created as a unit of account and store of value to encourage users to create content.
In particular, the Re-Taled ecosystem is composed of two entities, the Sponsor and the Community, which are intended to be separated and mutually independent. The Sponsor (a marketplace or a large supermarket chain) will adopt Re-Taled as a technological solution and empower the Community to establish a reliable and trustworthy content exchange system. Moreover, the Sponsor is expected to integrate its e-commerce and loyalty program services with the Re-Taled platform in order to allow the Community to use TALE tokens for discounts or in exchange for prizes. On the other hand, the Community is an autonomous entity (made of content creators, influencers and consumers) which creates and oversees content, services, new influencers' approval, dispute settlements and quality assurance.
What problem do you solve?
The online grocery market has grown by more than 150% per year during the last 4 years among all the most important European countries, and the same growth rate is expected in 2023. On the other hand, ratings and reviews are still not part of the grocery industry's e-commerce or online strategy, even if users are always seeking more unbiased content. Our proposal, Re-Taled aims at addressing the needs of several different subjects:
producers, supermarket chains and online marketplaces, which need to collect reviews continuously;
acquired customers who need to be rewarded for providing trustful and time-demanding reviews;
new consumers who need updated and unbiased content to drive their purchase decisions.
Why should others care?
Re-Taled is targeting two different kinds of end-users: consumers who recently started to place grocery online orders, and grocery online reseller, e-commerce, and marketplaces which need to provide the former with updated and unbiased reviews.
On the other hand, if validated, the Re-Taled platform model will have a great scaling potential. In particular, if the business model proposed by the Re-Tales platform will be validated in the grocery market, it could be replicated and easily adopted by e-commerce and marketplaces of other industries with a similar strategy.
Blockchain Experience
Omnia Service Italia's interest in blockchain-based solutions is recent but strong because of its promising application in logistics management, e-commerce and loyalty programs management (which are core business areas where Omnia has been operating for more than 25 years). In particular, with the Re-Taled proposal, we identified and tried to address the opportunity to create an environment where consumers are motivated to contribute content and customers are willing to trust.
This environment is expected to promote fairness and facilitate trust between the Sponsor and the Community of content creators through a transparent algorithm used to validate the quality and reward contributors with fair compensation. Moreover, it has to be decentralized because content creators cannot be rewarded by the same retailers and firms that are willing to collect user-generated content. A trustless system is briefly what this environment requires, and the blockchain is a perfect technological fit for it. Moreover, the TruBlo OpenCall #3 program, which provides supporting coaches, mentoring and research infrastructures, is the most suitable and desirable partner for Omnia Service Italia to overcome its lack of experience.