To support media professionals by providing them with an easy tool for certifying the creation of media content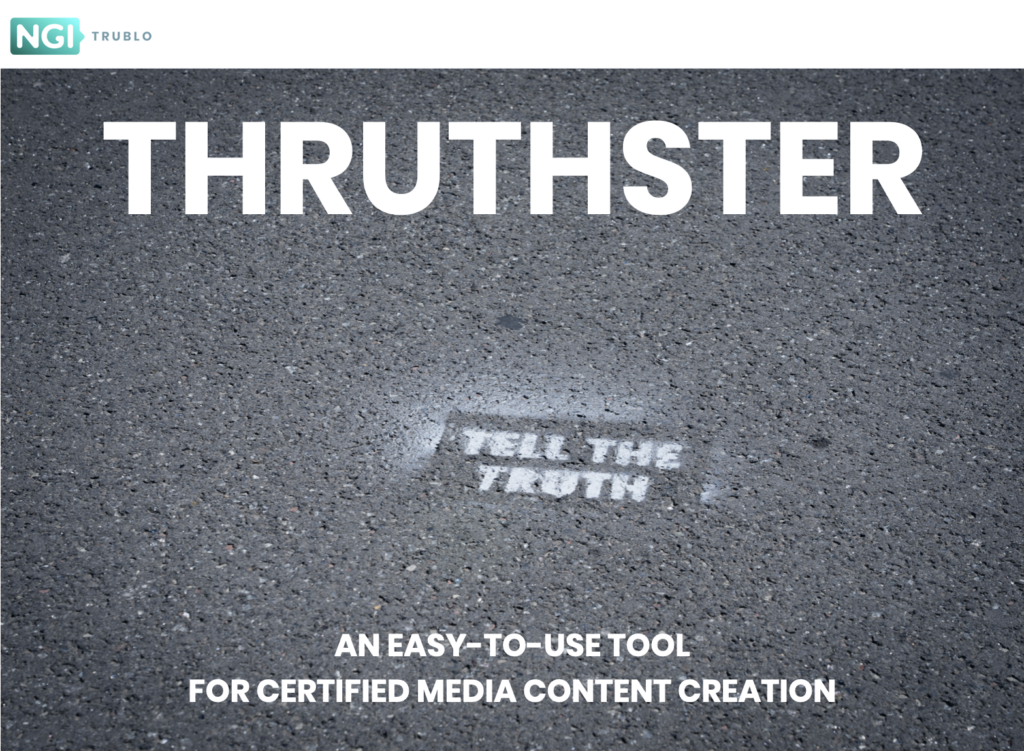 Project description
Our society is both technology-based and data-driven since it relies on the exchange of information through trustworthy communication media. As recently pointed out by the European Commission in the Strengthened Code of Practice on Disinformation released on the 16th of June 2022, "open democratic societies depend on public debates that allow well-informed citizens to express their will through free and fair political processes". Hence, public debate can be considered, in this sense, the pinnacle of a complex interaction among three kinds of subjects. First, governments bear the obligation of protecting fundamental rights (balancing, among others, privacy and freedom of expression). Second, social media platforms, whose technological control allows them to manipulate the behaviour and beliefs of customers. Third, users often aggregate in communities sharing interests, practices and experiences. Professional content creators play a difficult role in this scenario since they are required not only to abide by the laws but also to adapt to the terms of service imposed by the platforms while releasing their materials and to build an audience through credibility.
Despite the importance of their rule, journalists (media professionals in general) lack specific and effective tools that allow them to ensure the authentication or integrity of the content produced, as well as to collect from persons of interest easily (e.g. an interviewed) the consent for using their personal data or their copyright license (e.g. protected materials). Consequently, those who are involved in the news released are often unaware of their own rights, incapable of exercising them or incapacitated to raise legal claims or request restoration, especially with respect to data protection and privacy.
TRUTHSTER aims to support media professionals by providing them with an easy tool for certifying the creation of media content requiring the interaction with a user (e.g. an interview) and generating semi-automated legal disclaimers and licenses.
Goals
Certification through «proof of validity» as empowerment of professional media content creators and, so, of freedom of expression. Truthster aims at supporting media professionals, automating and streamlining the generation of licenses by copyright owners and disclaimers by data subjects;
Smart contracts as a way to raise transparency and protect persons of interest (interviewed data protection). Truthster aims to support rights' owners (e.g. an institution, a company, a journalist, a photographer, a director, a film production or a private individual) providing evidence of ownership of the media released (e.g. an image, a video, an interview, an article) together with disclaimers and, in case, a self-certification, so reducing the risk of legal controversies due to false claims of abusive reproduction of copyrighted materials.
Decentralized infrastructure (Alastria) as a trusted platform for balancing fundamental rights. Truthster aims to provide an easy way to unmask counterfeited digital artefacts (e.g. deepfakes'), due to the certification of the genuine ones.
Participative governance to ensure the uptake of the technology and the management of the system. Truthster aims to involve institutions, professional associations and communities, allowing the creation of a trusted ecosystem through a trust-less platform.
Open innovation to ensure the growth of the ecosystem. Truthster aims at digitalizing the negotiation of consent and licenses in order to reduce the environmental impact while allowing the possible integration with other professional services (cloud storage services, NFT marketplace, online ADR mediation).
Team
Federico Costantini (M.D. in Law, Ph.D. in Philosophy of Law) is a Researcher in the Department of Law at the University of Udine (Italy), where he lectures in Legal Informatics and Digital Security Law. He published several contributions on data protection, AI ethics and DLT legal issues and participated as an invited speaker in national and international conferences. He was appointed as Data Protection Officer (ad interim) at the University of Udine from May 2018 to March 2019 and currently serves as a legal expert in two Internal Board Reviews (DI4A, DMIF). He was involved as Working Group 1 leader in CA16222 (Wise-Act) on the social and economic impact of autonomous vehicles and currently, as a Management Committee member, in CA19143 (GDHRNet) on the protection of human rights in an online context.
Francesco Crisci (University of Udine: B.A., 2002 and Ph.D., 2007) is an Assistant professor of Management School of Economics (Department of Economics and Statistics). During 2005-2006, Francesco was a research fellow at the CRG-PREG, Ecole Polytechnique, in Paris. His main research interests concern "knowledge-intensive" organizations/research contexts in a Critical Management perspective: artistic and cultural organizations (visual and performing arts organizations); creativity and design in the competitiveness of firms and local systems (i.e.: "Made in Italy"); and, science/technology-based companies in a "Science and Technology Studies-STS" perspective (i.e.: life science and biotechnology firms). More specifically, Francesco works in the areas of operations management and product design; entrepreneurial processes & innovative business model (new business venturing); organizational change and innovation in terms of institutional analysis; strategic and decision-making/sensemaking processes; postmodern marketing approach & "Consumer Culture Theory-CCT" perspective; knowledge-based perspective in management & organization studies; issues of qualitative methods and interpretive approaches in social science research (organizational symbolism and cultural approaches, historical institutionalism, grounded theory approach, ethnomethodology and actor-network theory, narrative knowledge and semiotic perspective).
Marino Miculan, associate professor in Computer Science at the University of Udine, received the PhD in Computer Science at the University of Pisa in 1997. Currently he is head of the Laboratory of Models and Application of Distributed Systems at the Department of Mathematics, Computer Science and Physics of Udine, head of the Udine node of the CINI National Laboratory on Cybersecurity, member of the Distributed Ledger Technology Group, Italy. His research mainly concerns models and formal methods for concurrent and distributed systems, in particular for ensuring security properties and blockchain technologies. He has (co)authored more than 75 publications in international scientific journals and conference proceedings with peer review.
Stefano Bistarelli, Full Professor at the University of Perugia, is an active researcher in the field of  Knowledge Representation and Reasoning, with a particular interest in Argumentation, Constraint Programming, Cybersecurity and blockchain. He received his Phd in Computer Science in Pisa, awarded by both the Italian section of the European Association for Theoretical Computer Science (EATCS) and by the Italian Association for Artificial Intelligence (AI*IA). Later, in 2004, an extended version of his doctoral work was published as a volume in the Springer Jacketed LNCS series. This book represents at today an important reference for those who are deeply involved in the (Soft) Constraint Programming area. Currently, he's leading the Italian DLT working group collecting many of the Italian scientists working on blockchain. He is an active researcher counting more than 300 papers and 4000 citations on google scholar.
Rosario Lombardo (Chairman of innov@ctors s.r.l.) is an Electronic Engineer with 12+ years of experience in complex ICT projects and one of the founders of innov@ctors s.r.l., a former spin-off of the University of Udine. Innov@ctors, incorporated in 2010, develops full stack ICT solutions for business process optimization and fintech solutions for banks and payment institutions.
Federico Rosso works as CEO and owner of HTS s.r.l., a company that develops and produces IT security products for enterprise customers. He has an electronic engineering degree, and his first experience was as a project manager in Carlo Gavazzi Space, a company that produces satellites for science research and telecommunications. He started his 20 years of experience in the IT security market in SATA HTS S.p.A., first as a project manager then in the commercial division and final as Vice President. He has a strong experience in IT security technology and related international law and regulation.
Silvia Venier (MA in International Relations, PhD in International Law) is a Postdoctoral Fellow at the Scuola Superiore Sant'Anna in Pisa (Italy), where she is in charge of the CBRN-Italy project. She also serves as independent ethics and human rights advisor in the scope of two EU-funded projects (INCLUDING and RISEN). Since 2009, she has been involved as a human rights expert in several EU projects aimed at developing new technologies to be deployed in different fields (including HEIMDALL, ANYWHERE, and PACT). She spent research periods at the Essex University Human Rights Centre and Copenhagen University Faculty of Law. She has participated in several international conferences as a speaker and she has widely published on topics related to human rights law, including the right to information.
Giancarlo Virgilio is a journalist and video reporter from Udine. He is currently the supervisor of the website of Telefriuli, the main television broadcaster in the Region Friuli Venezia Giulia (IT). He has been working in the field for 15 years and is an expert mobile journalist and multimedia journalist. Graduated in Modern Literature with a master's degree in 'Design – Economics and Management of Events'; after some teaching experiences abroad and in Italy, he started working in the field in 2007 with Antenna Tre Nord Est. He writes, shoots, edits, manages news sites and studies strategies and campaigns to help people, companies or associations to communicate.
Blockchain Experience
The team has experience in the application of blockchain technology in different domains, including food supply chain and olive oil production, traceability, rental and insurance of museum artworks, cryptocurrencies de-anonymization and dispute resolution on the bitcoin market. This has been realized through EU, national and regional funded research and development projects, as well as partnerships with industry and private actors.
TRUTHSTER's vision is aimed at empowering media professionals with the creation of certified materials through the integration of blockchain and mobile technology, as a crucial factor for innovating and improving trust in the market of content creation.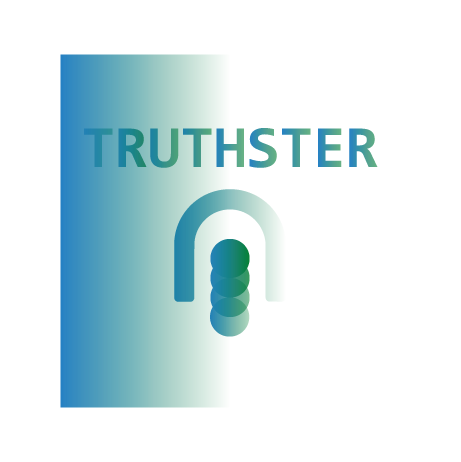 TRUTHSTER Logo by CREAA